PRESS RELEASE: Feminist punk augumented reality game, The Glass Ceiling Games, crowdfunding to complete development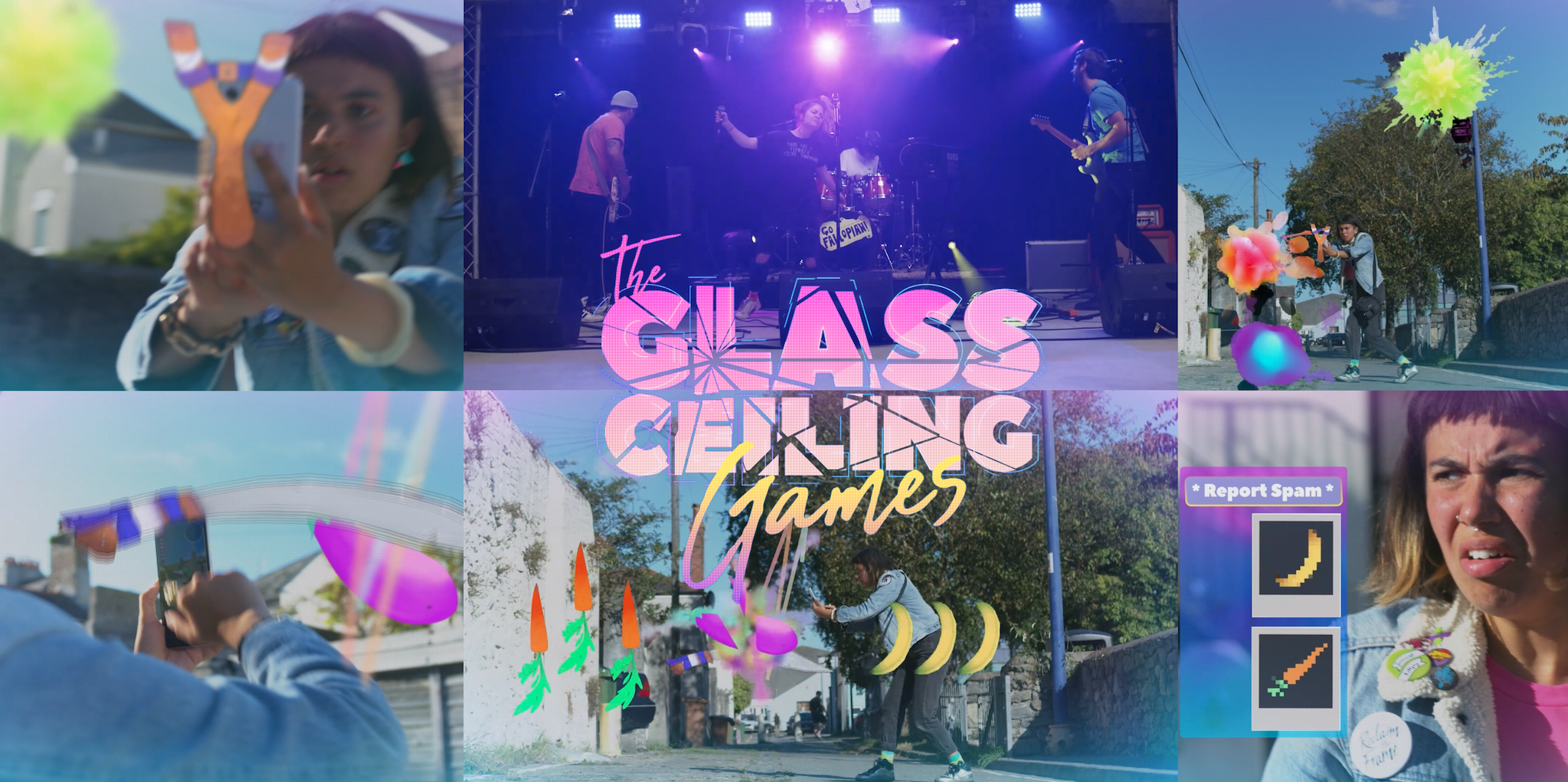 Cathartic feminist punk augmented reality game, The Glass Ceiling Games, has just launched its crowdfunding campaign on Kickstarter to raise the funds needed to complete its development.
The UK Games Fund (UKGF) and Creative UK supported game, made by indie studio Story Juice, is offering a variety of rewards at different levels for backers, including the game, a copy of the soundtrack, posters, game contributions, mentoring sessions, and an invite to the game's VIP launch party.
The mobile augmented reality experience blends the real and digital world through gameplay and gives players the chance to slay everyday sexism across six levels, each featuring a new fantasy anti-sexist sport—including slingshotting catcalls, macheteing unsolicited pix, raygunning mansplains and more for freedom, money and joy points. By mastering the fantasy sports, players boss up the ranks of a skyscraper called The System and smash the glass ceiling.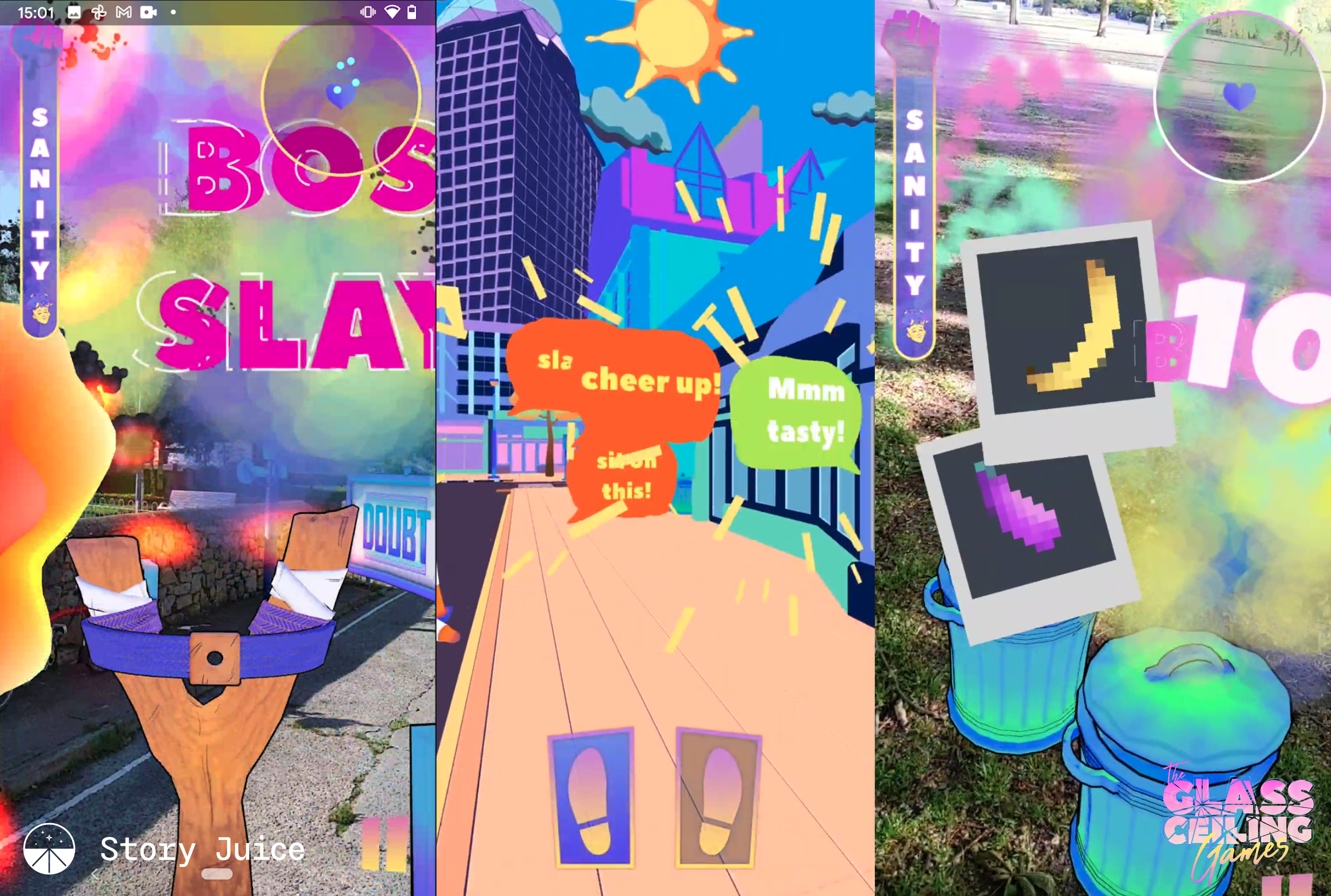 The game has a cartoon neon art style with gameplay designed to a bespoke soundtrack by Riot Grrrl-inspired electropunk band Go Fallopian! Narrative mechanics and dark humour combine to depict the personal experiences of sexism that have inspired the game and raise awareness about issues faced by women and diverse genders.
Story Juice Creative Director, Hannah Wood, said: "The Glass Ceiling Games is a playful alternate power fantasy that makes people laugh, but also voices the sexism women and diverse genders face daily. Its goal is to provoke changes that can end sexism."
The levels where players slingshot catcalls and machete unsolicited pix have been made and the Kickstarter funding target is to make the final four levels, where you box stereotypes, throw babies in baskets labeled 'man's work', bat away emotional labour and finally dodge and raygun mansplains before the glass ceiling smashes, The System building crumbles, and you're left triumphant atop the rubble with a haul of freedom, money and joy.
Chris Filip, Head of Creative Enterprise at Creative UK, said: "We wholeheartedly support Story Juice and The Glass Ceiling Games. It's a game that has gone from strength to strength and should be on everyone's phones.
"Story Juice has always been a staunch advocate and supporter of the games industry, and we loved working with them throughout our programmes, as well as feeling like the funding we have offered them has been put to good use!"
Kirsty Gibson, Head of Community at UKGF, added: "Story Juice is an incredibly innovative creative studio and we're excited to see where the UK Games Fund-backed Glass Ceiling Games progresses in the marketplace."
The game can be supported on Kickstarter here: https://www.kickstarter.com/projects/storyjuice/the-glass-ceiling-games
More images and video can be downloaded from the Press Kit. Email glassceiling@storyjuice.co.uk for more information.