Glass Ceiling Games augmented reality gameplay video walkthrough
Here we give you a closer look at the current gameplay in The Glass Ceiling Games, which we've been playtesting with people all week. It's been really fun to see how different people react. 💖
One guy said:
"It's awesome, gross, eye-opening. I thought it was very original both in terms of the technicolour art style with the 80s-style punk. Overall a really great use of augmented reality which I've sorely missed from the days of the Nintendo 3DS and Pokemon Go."

Augmented Reality is difficult to represent on film and effectively communicate how it feels to play so we hope this walkthrough video, which is a screen record of playthrough on a mobile (hooray for a sunny day! ☀️), gives you a good sense of it!
It shows you where we are with Level 1, Catcall 🗣️, and Level 3, Unsolicited 🍆 Pix!
The goal of the game is to boss up a skyscraper called The System and smash the glass ceiling. You start outside The System skyscraper where you 🗣️ slingshot catcalls for freedom. You then move inside the building, climbing higher as you 🥊 box stereotypes for money, 🍆 machete unsolicited dick pix for joy, 🏏 bat emotional labour for freedom and 🤾‍♀️ throw babies in baskets labelled 'man's work' for money, before reaching the conference room at the top where you 🔫 raygun mansplains for joy, smash the domed glass ceiling and collect your total haul of 🤘 freedom, 💰 money and 😃 joy points! You can then replay to try and beat your previous score!
Each level starts with an interactive cutscene introducing the context of the AR gameplay (left in image below) and ends with an outro as you transition to the next level. The radar in the top right of the screen keeps you informed of where the sexist enemies are spawning from AR props throughout; and you must keep an eye on your sanity in the health bar because if that goes down you're driven insane and have to restart the level. The AR gameplay is all designed to the beat of the music, making it an electropunk album you play. 🎸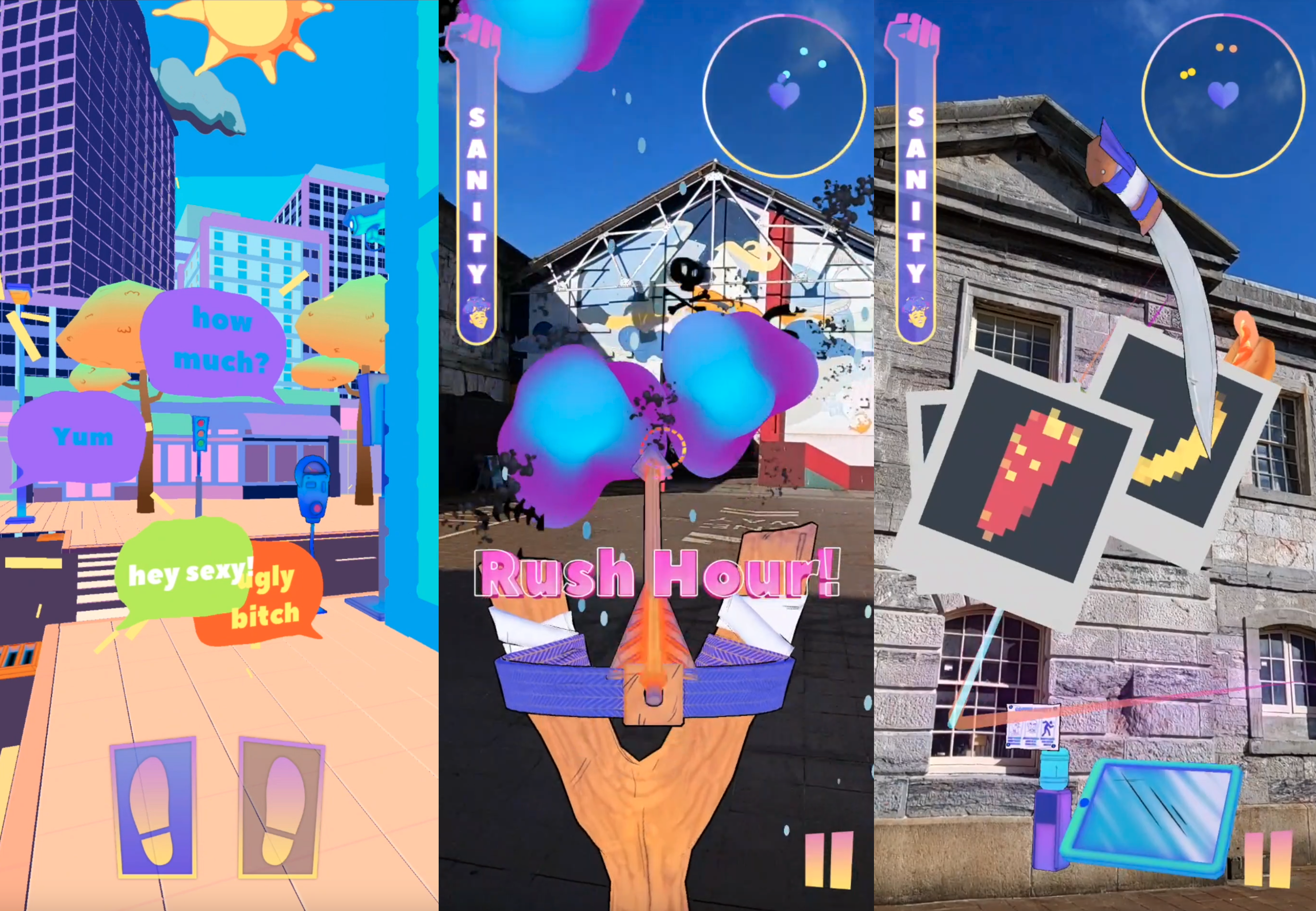 If you've got any questions, let us know on our socials!
You can back our Kickstarter to help us complete the game here!