Community Manager Erin's Top 5 Feminist Music Artists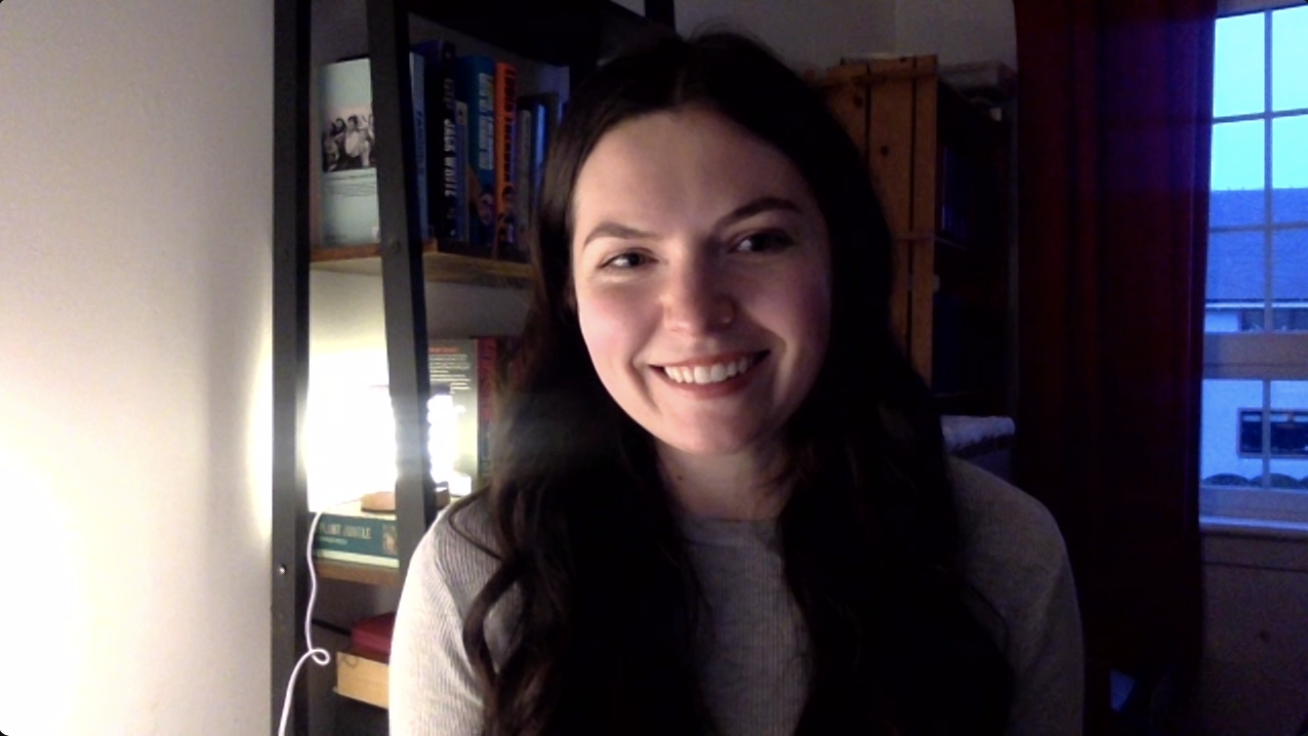 The fierce electropunk soundtrack by Go Fallopian! is central to the aesthetic of The Glass Ceiling Games, and each level's gameplay is designed to the beat of an audio track—like a punk album you play. The music mood board we provided mixed Riot Grrrl with electro and included artists like Le Tigre, The Faint, Peaches, Yeah Yeah Yeahs, Bikini Kill, Gossip and Fischerspooner, an energy Go Fallopian! totally captured and made fresh with their unique talent.
Comedy subversion is also central to the aesthetic and in the tracks written so far—one for the level where you slingshot catcalls, the other for the level where you machete unsolicited dick pix—the lyrics capture the sardonic and anarchic humour of the game, one of my favourites being: "you take me digitally hostage, with this image of your sausage, when you stick it in my inbox uninvited."
The clever lyrics make you laugh and empower you as you play and the music captures the joyful catharsis you feel at letting your rage out against the patriarchy. In the spirit of that feminist empowerment through music, I'm sharing my top five bands and musicians that inspire me through their lyrics and artistry.
1. Wet Leg
First up is my most recent discovery and the one I'm most excited about. Wet Leg are a female indie/post-punk rock duo, Hester Chambers and Rhian Teasdale, taking the world by storm with tracks like Ur Mum, Chaise Longue and Wet Dream. They push boundaries with provocative lyrics that openly claim and express their sexuality.
My favourite track: Chaise Longue
This song is infectious and brimming with juicy innuendoes like: "Is your muffin buttered? Would you like us to assign someone to butter your muffin?" I enjoy the witty lyrics with sexual undertones, including multiple playful references to getting the "Big D." On stage and in music videos, Chambers and Teasdale come across as quiet and shy, much like me, yet it's clear the band has this cheeky side. To me, it shows that even us quiet girls can express and own our sexualities in our own ways. Fun, fresh and saturated in tongue-in-cheek, Wet Leg are the new punk band you need to hear.
2. Lizzo
Lizzo is my ultimate feel-good queen. She's credited with helping women around the world accept and celebrate their bodies through her lyrics and messages. I appreciate her honesty about her journey to self-love, particularly her struggle with body dysmorphia, and ultimately how she promotes body positivity from an authentic place and speaks her mind. She's always been an artist whose confidence I admire, and it feels like every song of hers is empowering and uplifting in some sort of way.
My favourite track: About Damn Time
This song came at the perfect time… We were all in a bit of a lull, a slump in life from the pandemic, and in April 2022 Lizzo put a stop to it: "Oh, I've been so down and under pressure, I'm way too fine to be this stressed, yeah." In other words, you're too beautiful to be so hard on yourself. It's a groovy, happy song about taking a step back, worrying less and celebrating yourself. The track went viral on TikTok as a dance trend started by creator Jaeden Gomez and for a while every other video on my feed was someone dancing to About Damn Time—which shows how worldwide empowering the Lizzo effect is.
3. Ellie Rowsell
Ellie is the magnetic frontwoman of indie rock band Wolf Alice who I've admired for a long time. She's backed by three guys: Joff Oddie on guitar, Joel Amey on drums and Theo Ellis on bass, but it is always Ellie who takes the spotlight, which is unusual in the male-dominated rock genre and Ellie spoke out about in 2021. A study by the BBC found that in 2022, only 13% of headliners for music festivals were women, despite many events promising a 50/50 gender split by now.
In 2016, at the start of Wolf Alice's career, Ellie also advocated for better treatment of women in music so they aren't put into boxes and can choose how they represent themselves. Speaking with nuance about sexual objectification, she said: "I would hate to think that a woman, if she wanted to, couldn't wear a bikini in her music video without people saying 'look how sexualised she is now' or 'her label must be telling her to do this'." I appreciate how Ellie uses her position as a successful frontwoman to call for more representation and choice for women in the music industry.
My favourite track: Smile
This song stems from their single Yuk Foo from a previous album which is raw, angry and full of punk. The lyric in Yuk Foo: "I wanna fuck all the people I meet," horrified some people, as Ellie said: "As if it was gross that I should be someone who has sex, or is not afraid to talk about it. And then I felt annoyed that there are things that people don't want me to be." This feeling inspired the single Smile, which is about fighting back against people who try to define her. I enjoy the lyrics: "Don't call me mad, there's a difference, I'm angry, and your choice to call me cute has offended me," before the track comes to an end with an uplifting chant to 'smile.' Just like being told to crack a smile or cheer up by some random bloke when we're walking down the street, it's also extremely frustrating to be called 'cute' or 'babe.' I don't want or appreciate these unsolicited, sexual or diminishing comments and singing along with Ellie's lyrics is very satisfying.
4. King Princess
I feel like King Princess is everyone's favourite queer pop star. Their fearless and unapologetic attitude towards their sexuality and their gender expression inspires me as a cis person and empowers my queer friends by echoing their realities. Their track Pussy Is God has the lyrics: "Your pussy is God, and I'm falling, we're on the same wave when we're talking," which is exciting because it voices an LGBTQ+ community perspective at a mainstream level, something we need much more of. She also brings a refreshing take on the ins and outs of life in a digital world as a twenty-something, which I relate to more than with older artists.
My favourite track: Cursed
Partly inspired by Kate Bush's track Why Should I Love You, this single reflects on a toxic friendship, saying goodbyes and new beginnings. She's labelled it a "Toxic Friendship Anthem" and what's more cathartic than letting go of the people in your life who only bring you down? With lyrics like: "But endings lead to better things, like sleeping again, oh, 'cause it's a curse to be your friend'," King Princess reminds us to put ourselves, and what's good for us, first. In the music video for the track, she's also seen slow dancing making out with herself against the dimly lit backdrop of a bar, as another gesture of self-love.
5. Beyoncé
This would be no feminist list without the icon herself. I feel like a lot of people view Beyoncé as a fake or inauthentic intersectional feminist because of songs like Run The World where she was criticised for being cliche and representing a sexualised display of men versus women, with lyrics and the music video suggesting that power only comes from sexual prowess. At the end of the video, the women salute to the men, implying that once the power dance is over, they go back to submitting to them.
But as an artist she's also spoken out about the struggles that face black women, BLM, criticised Trump and promoted body positivity. I was never a massive fan of her until I watched her powerful documentary Homecoming, which follows her mental and physical journey towards and during her headline Coachella set, and shows how dedicated, hardworking and persevering she is.
My favourite track: "Break My Soul"
This track is potentially the song of the summer, featuring a sample from the Robin S classic Show Me Love. It references the Great Resignation, which was a labour trend that saw workers quitting their jobs after COVID-19, whilst reassessing capitalism and considering burnout as a real side effect of it. Human rights are the focus of the track, which has strong crossovers with feminism. It serves as encouragement for people to know their rights and to challenge exploitation and inequalities. It's not the exclusively feminist track that you might expect from Beyoncé and its message is empowering for everyone.
Have a listen to these songs on this Spotify playlist!
Thank you for reading! I'd love to hear who your favourite feminist artists are too!